Music Dance Epic Jing Gang Shan Special Shows
June 28, 2014, the provincial high art into the community, music dance epic "Jing Gang Shan" special shows held in the content of the people's cultural palace. Vice secretary of the party Jin Guying, vice President of yu-hua and content at home such as vice secretary of the county xiao-jian Guo county four sets of team leaders attended.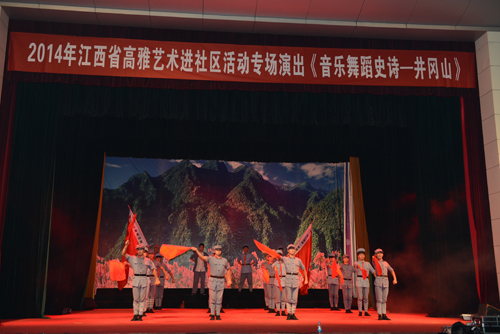 Content of cadres, soldiers in county, primary and secondary school students on behalf of a total of thousands of people watched the performance. One and a half hours to show in a vivid scene recreates the Jing Gang Shan revolution, tells the story the Jing gang mountains revolutionary struggle, to carry forward the great spirit of Jing Gang Shan. Show the scene atmosphere warm applause. After the performance, content school leadership and watch performances are together walked onto the stage to receive in college students, congratulations to show success and took a group photo.